Lion of the Sky:
Haiku for All Seasons

you gasp as I roar,
my mane exploding, sizzling—
lion of the sky!
Haiku meet up with riddles, and stunning art by Mercè López plays along! Did you ever look at a firework and think it looked like a lion's mane? There is wonder and magic everywhere in our world, and these riddle-ku celebrate that. 24 riddle-ku capture iconic images and events of the 4 seasons, from baseball to the first day of school to a pair of cozy mittens. Look at the always-changing world around you with a new sense of imagination and curiosity with this gorgeous book!
Author: Laura Purdie Salas
Illustrator: Mercè López
Publisher: Millbrook (4/1/19)
ISBN: 978-1512498097
Order Here–
Signed Copies Available!

 

Personalized, signed copies!
Note personalization name in comment box as you order the book:>)

 

Support indie booksellers!

 

Order from Amazon
Lion of the Sky:
Awards and Recognition
Lion of the Sky: How/Why I Wrote It

Thrilled that Lion of the Sky is a nominee for Vermont's Red Clover Award (their Children's Choice Picture Book Award)! Here's a brief video I made for their conference.
Lion of the Sky: The Musical!
The second graders at Rogers Elementary School, under the guidance of music specialist Michelle Pagel, created a music program based on Lion of the Sky. It's fabulous! Here's a peek at a few of the pieces.
Writing Process Videos for Lion of the Sky

Working with Illustrators and how the Lion of the Sky artist's different perception along with the answers not being with the poems led to some confusion. (6-7 minutes)
 
The genesis of Lion of the Sky and the publishing process/timeline (6 minutes)

Working with an editor on Lion of the Sky–the writing and revision process, plus the great punctuation debate! (9 minutes)
 
Poetry Round Up at TLA 2019
Hear Laura share a riddle-ku and a bit about the background of the book.
FREE Activity Sheets
Click on the image to open a downloadable .pdf file.
Share your own riddle-ku and drawings!
Book Trailer
Reviews & More
Review: Booklist: STARRED "The eloquent language ranges from philosophical to whimsical, and that tone is reflected in the colorful acrylic paintings… the wonderfully evocative, vivid imagery in text and art also make this a welcome addition for poetry classroom units."
Review: Kirkus: STARRED "Richly rewarding and clever: a visually arresting, inventive treatment of a popular subject."
Review: Horn Book: "Salas's innovative language steals the show. What is "firelight from the past" or "a yellow train / CARRYING thoughts from your brain / to the waiting page"? (Answers: stars and a pencil.)…Multiple readings are in order: the first few may revolve around riddle solving, while subsequent ones will allow readers to savor the imaginative language and illustrations."
Review: School Library Journal: "This well-crafted work contains versatile possibilities for classrooms and libraries."
Review: Publishers Weekly: "The book's meditative tone and resonant images invite readers to embrace new ways of seeing the world around them."
Review: Bulletin of the Center for Children's Books: "The concept is inviting, adding a slightly mysterious note to the familiar form of haiku, and Salas skillfully knits her verses together with consonance and wit."
Review: Minneapolis Star Tribune: "Her exuberant haiku-riddles are a celebration of seasons, describing but never naming. What flowers bloom in the rain? With the subtle help of Mercè López's soft acrylic illustrations, children will happily shout out the answer: Umbrellas!"
Review: Wrapped in Foil: "Lion of the Sky encourages young reader to look closely at the world around them and think creatively. Get caught up in a copy today!"
Amazing! Riddle-ku by Vermont second graders (illus by K/multi-age students):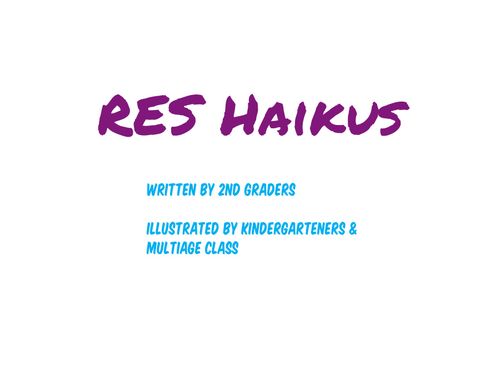 Jules Danielson: Seven Impossible Things Before Breakfast: Check out a number of interior pages and admire Mercè López's gorgeous art!
Kirkus: Getting Ready for April: "Laura Purdie Salas is one of children's literature's most prolific and inventive poets, and her newest book, Lion of the Sky: Haiku for All Seasons, is a sheer delight. If you work with children in any way or find yourself reading to them, be sure to have a copy on hand to celebrate National Poetry Month."
Margaret Simon: One way to write riddle-kus in the classroom. I love her popsicle stick idea!
Cover love: Bookish.com named it a Best Book Cover of April! Thank you, illustrator Mercè López and designer Lindsey Owens!
Review: Ass'n. of Children's Librarians of Northern California:  "Each first-person poem sug­gestively hints at the identity of its narrator—an object repre­senting the spring, summer, fall, or winter. "You gasp as I roar,/ my mane EXPLODING, sizzling—lion of the sky!"… Lion of the Sky is a delightfully inventive take on a timeless subject."
Review: Stacked Books: "Haiku meet riddles in this wonderful collection from Laura Purdie Salas."
Review: International Literacy Association: "Readers will have fun trying to solve each of the clever "riddle-kus," combinations of a riddle, haiku, and mask poem in which something nonhuman narrates or speaks, in Laura Purdie Salas' collection of seasonal poems."
Review: Margie Myers-Culver at Librarian's Quest shares several riddle-ku from the book and says, " These poems ask us to use all our senses, seeking answers in not-so-obvious places. The subjects described are familiar but lifted to wondrous."

Review: The Fairview Review: "…fun book to share with a friend, taking turns to read a poem aloud and let the friend guess the answer to the riddle, then reveal the illustration to see if they were correct in their answer."
Review: Mary Ann Grossman of the St. Paul Pioneer Press shares two riddle-ku from the book.
Review: Sal's Fiction Addiction: "This is a book for those who love haiku poetry, the passing of the seasons, and a chance to solve a riddle – or – 24!"
UK National Poetry Library: "…this is a beautiful and thoughtful book. Salas also gives tips on how to create your own riddle-ku. We think it could become addictive…"
Review: What Is Bridget Reading?: "Another beauty of haiku: they are short enough to share with the youngest listeners."