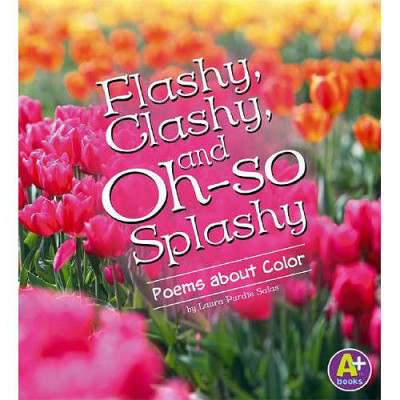 Bossy scarecrows, three-headed zebras, and mysterious school lunches, it's all in the world of poetry. Striking photos pair with well-crafted wordplay in these themed introductions to rhyme and rhythm. Poems in various forms by award-winning poet Laura Purdie Salas celebrate everything from sitting in class to sailing through space.
About the Book
A collection of original, color-themed poetry for children accompanied by striking photos. These books for kindergartners through second graders contain lots of snappy rhyming poems as well as several poetic forms.
Orange You Jealous of My Color?
I'm flashy
and clashy
and beautifully
splashy
and everyone notices me!
I'm bright
and unwhite,
quite a dazzling
sight?
I certainly hope you agree!
Other Laura's Books in "A+ Books Poetry Set"
Warning
: SimpleXMLElement::__construct(): Entity: line 1: parser error : Space required after the Public Identifier in
/var/www/wp-content/plugins/mybooktable-pro2/includes/professional2/professional2.php
on line
413
Warning
: SimpleXMLElement::__construct(): <!DOCTYPE HTML PUBLIC "-//IETF//DTD HTML 2.0//EN"> in
/var/www/wp-content/plugins/mybooktable-pro2/includes/professional2/professional2.php
on line
413
Warning
: SimpleXMLElement::__construct(): ^ in
/var/www/wp-content/plugins/mybooktable-pro2/includes/professional2/professional2.php
on line
413
Warning
: SimpleXMLElement::__construct(): Entity: line 1: parser error : SystemLiteral " or ' expected in
/var/www/wp-content/plugins/mybooktable-pro2/includes/professional2/professional2.php
on line
413
Warning
: SimpleXMLElement::__construct(): <!DOCTYPE HTML PUBLIC "-//IETF//DTD HTML 2.0//EN"> in
/var/www/wp-content/plugins/mybooktable-pro2/includes/professional2/professional2.php
on line
413
Warning
: SimpleXMLElement::__construct(): ^ in
/var/www/wp-content/plugins/mybooktable-pro2/includes/professional2/professional2.php
on line
413
Warning
: SimpleXMLElement::__construct(): Entity: line 1: parser error : SYSTEM or PUBLIC, the URI is missing in
/var/www/wp-content/plugins/mybooktable-pro2/includes/professional2/professional2.php
on line
413
Warning
: SimpleXMLElement::__construct(): <!DOCTYPE HTML PUBLIC "-//IETF//DTD HTML 2.0//EN"> in
/var/www/wp-content/plugins/mybooktable-pro2/includes/professional2/professional2.php
on line
413
Warning
: SimpleXMLElement::__construct(): ^ in
/var/www/wp-content/plugins/mybooktable-pro2/includes/professional2/professional2.php
on line
413
Fatal error
: Uncaught Exception: String could not be parsed as XML in /var/www/wp-content/plugins/mybooktable-pro2/includes/professional2/professional2.php:413 Stack trace: #0 /var/www/wp-content/plugins/mybooktable-pro2/includes/professional2/professional2.php(413): SimpleXMLElement->__construct('<!DOCTYPE HTML ...') #1 /var/www/wp-content/plugins/mybooktable/includes/templates.php(1096): mbtpro2_get_amazon_reviews() #2 /var/www/wp-content/plugins/mybooktable/includes/templates.php(1451): mbt_get_reviews(12596) #3 /var/www/wp-content/plugins/mybooktable/includes/templates.php(605): mbt_do_standard_reviews_section() #4 /var/www/wp-content/plugins/mybooktable/templates/single-book-storefront/content.php(4): mbt_do_book_content_sections('storefront') #5 /var/www/wp-content/plugins/mybooktable/includes/templates.php(184): include('/var/www/wp-con...') #6 /var/www/wp-content/plugins/mybooktable/includes/templates.php(341): mbt_include_template('single-book-sto...') #7 /var/www/wp-includes/class-wp-hook.php(287): mbt_do_single in
/var/www/wp-content/plugins/mybooktable-pro2/includes/professional2/professional2.php
on line
413